This site, besides mocking the term undocumented, is an illegal immigration primer whose goal is to provide information on illegal immigration prevention, enforcement, and attrition.

IllegalAliens.US has been operating since August 30, 2002.



AMNESTY means never having immigration enforcement!

Those 'undocumented' are actually 'highly documented' with fraudulent documents our government readily accepts.

There should be no debate over illegal invasion.




The Statue of
Liberty is a monument dedicated to freedom and liberty. She never meant that foreigners have the right to violate America's immigration laws. Statue of Liberty
QUOTES

A TERRIFIC QUOTE:
"Illegal is anything that is against the law including drug trafficking, smuggling, terrorism or crossing the border into a country. Undocumented is anything that can no longer be verified including unemployed American workers who no longer qualify for unemployment benefits and are no longer counted in statistics. What a sorry nation we are becoming when we allow corporate political correctness to pervade our daily speech. Illegal means illegal."
-- Peter Romanenko, Waco, Texas
"Every 'shortage' of supply is equally a 'longage' of demand."

"Never globalize a problem if it can possibly be dealt with locally."

"Sustainable growth' is an oxymoron."

"We are not faced with a single global population problem, but rather 187 separate national population problems."

For more quotations visit http://www.garretthardinsociety.org/info/quotes.html.

"In the first place, we should insist that if the immigrant who comes here in good faith becomes an American and assimilates himself to us, he shall be treated on an exact equality with everyone else, for it is an outrage to discriminate against any such man because of creed, or birthplace, or origin. But this is predicated upon the person's becoming in every facet an American and nothing but an American...There can be no divided allegiance here. Any man who says he is an American, but something else also, isn't an American at all. We have room for but one flag, the American flag... We have room for but one language here, and that is the English language... and we have room for but one sole loyalty and that is a loyalty to the American people."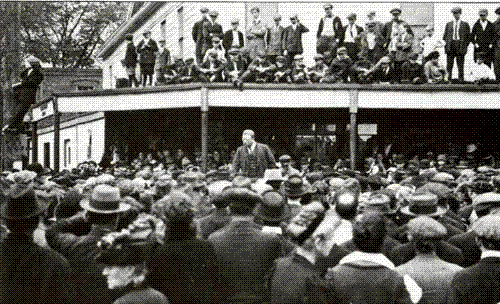 Theodore Roosevelt 1907
"For an American citizen to vote as a German-American, an Irish-American, or an English-American, is to be a traitor to American institutions; and those hyphenated Americans who terrorize American politicians by threats of the foreign vote are engaged in treason to the American Republic." -- Theodore Roosevelt, 1915.
Copyright © 2023. All rights reserved. IllegalAliens.US is a Jumpin' Jupiter site.